Regular price
$30.00 USD
Sale price
$25.50 USD
Unit price
per
Sale
Sold out
The Khey-9 Soap/Shampoo Bar is formulated for dogs of all ages and sizes. It's amazing for calming dry, itchy, or irritated skin and rinses easily from even the thickest coats.
- We use organic, unrefined apple cider vinegar (ACV) to balance many hair and skin issues. The ACV makes the soap slightly more acidic than regular soaps, helping to cleanse and condition the hair, sooth the skin, and remove bacteria. Your fur friends with skin conditions will especially love it!
- Freshly pressed oat milk and raw honey are added to be soothing, gentle and mild to irritated skin, making it a great choice all year but especially for winter time...because the dry season may bother your fur friend too!
- We added Neem oil and lavender, sweet orange, cedarwood, and frankincense essential oils to help and protect your pet from fleas and ticks.
- Avocado oil, sweet almond oil, organic coconut oil and olive oil help to balance, cleanse and moisturize the skin and condition fur. Your fur friend will be soft and fresh!!
The oat milk is freshly pressed and added to this bar of goodness. It is soothing, gentle and mild to irritated skin. This is a great choice for winter time... the dry season may bother your fur friend too! 
 (3) Khey-9 Soap Pack
Ingredients

*Avocado Oil, *Sweet Almond Oil, *Coconut Oil, *Olive Oil, *Oat Milk, *Apple Cider Vinegar, Essential Oils (Lavender, Sweet Orange, Cedar Wood, Frankincense), *Raw Honey, Water, Sodium Hydroxide.

*Denotes an organic ingredient
Directions

Brush your dog to remove any matting, excess hair, and loosen dirt and dead skin. Wet your dog throughly. Rub the Khey-9 Soap Bar into the fur starting at the tail and working your way forward to behind the ears. Massage to create lather then rinse throughly with warm water.
Why Do Products Melt in the Heat
Additional Information

For more information, click here to visit our FAQ page.

Information presented here is not
meant as a substitute for, or alternative to, information from your
health care practitioner. The statements made regarding these products
have not been evaluated by the Food and Drug Administration. These
products are not intended to diagnose, treat, cure or prevent any
disease. The information on our website is intended to provide general
information regarding our products and is not to be construed as medical
advice or instruction.
Share
View full details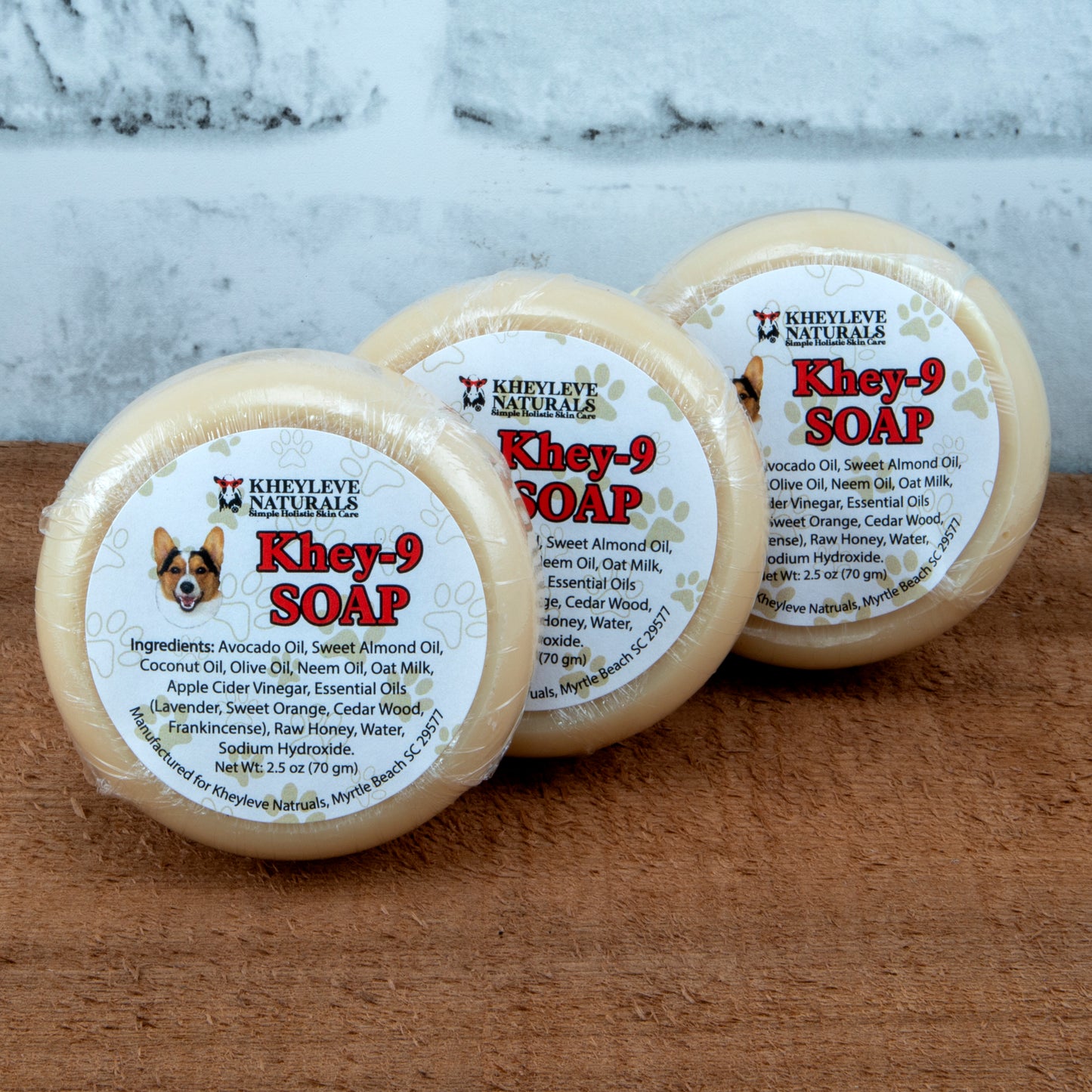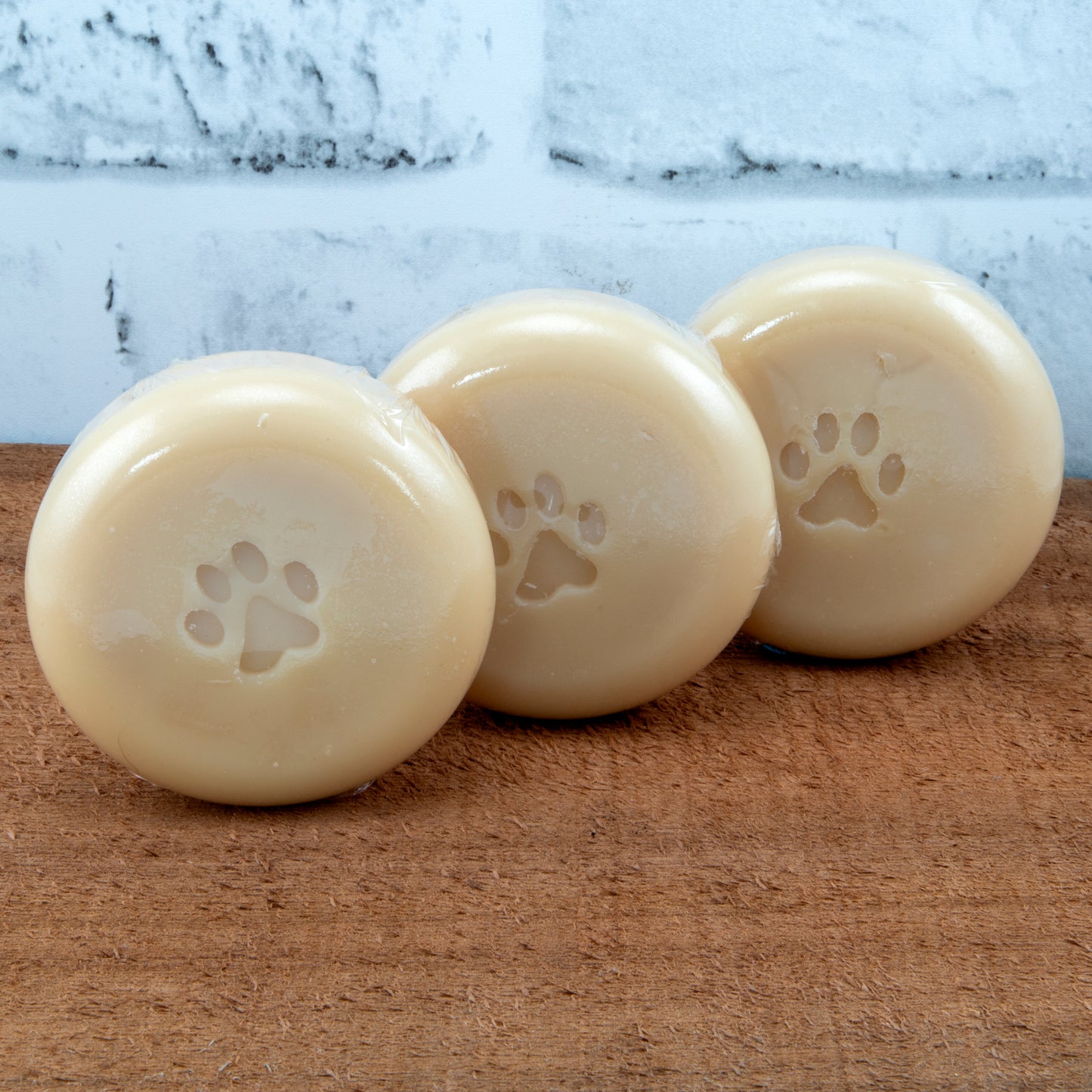 Great soap, smells good too!
I like the way bar lathers quickly and a lot. Smells great, rinses great too!
Love the product
Kheyleve always comes through. I love the Khey-9 soap and the bars last a long time. Worth the money!
Funky yeasty dog smell…GONE!!!
For years we have spent a fortune on special dog shampoos dealing with skin issues, allergies and yeast! This soap lathers really well and no more STINK! Thank you KHEYLEVE! 👏
Stinky and itchy boy
I've used the Khey-9 soap so far twice on my dogs and both times they came out soft and fluffy. My 1 year old male dogs gets very stinky and really itchy. After his bath the stench is gone and he's not as itchy anymore ,he loves it. And the family loves it the dogs smell great and are so soft and fluffy. Amazing ❤️
Dog soap
I only use clean non toxic products on my pups. I loved the soap! Thank you