Regular price
$59.00 USD
Sale price
$45.00 USD
Unit price
per
Sale
Sold out
The Khey-sentials Kit is the perfect way to keep yourself and your family feeling clean and refreshed. Our 100% natural deodorant, soap and Just LoLo Body Butter provide an effective, non-toxic way to stay clean and smelling fresh all day, and our FREE lip balm is the perfect bonus! All of our products are made from carefully selected, all-natural ingredients, so you don't have to worry about harsh chemicals or skin irritants.

-Tallow and Goats Milk Soap is the perfect start to a healthy skin care routine; it cleanses, moisturizes and soothes your skin with 100% natural grass-fed tallow and goats milk, essential oils and dried herbs. Please use the drop down menu to choose your scent. 

-Just LoLo Tallow Body Butter is an organic skin care staple, full of skin nourishing ingredients that leave your skin soft and protected. It's Unscented so safe even for children. 

- Khey-Fresh Deodorant - is the newest addition to our family of products and will keep you odor free all over -all day! Choose from Unscented or Lavender-Sage.

- Just Lippy Lip Balm moisturizes and protects with tallow and cocoa butter, keeping your lips soft and smooth. Free with your purchase! 

* Please see individual product page for full details*
Ingredients

*Please look at individual product ingredients, sizes, and application instructions.*
Care Instructions

Use clean, dry hands; store in cool, dry place. Products that are sealed can be stored in a refrigerator for up to 6 months.
Why Do Products Melt in the Heat
Additional Information

For more information, click here to visit our FAQ page.

Information presented here is not
meant as a substitute for, or alternative to, information from your
health care practitioner. The statements made regarding these products
have not been evaluated by the Food and Drug Administration. These
products are not intended to diagnose, treat, cure or prevent any
disease. The information on our website is intended to provide general
information regarding our products and is not to be construed as medical
advice or instruction.

 

Why should I use natural deodorant?

Khey-Fresh All Over deodorant is made from simple, clean ingredients that actually work to prevent odor without harmful chemicals!! Our formula is backed by world-class science, research, and ingredient sourcing for a high-quality product with nothing to hide. Plus it's designed to be used ANYWHERE (externally) you have odor!

How do I apply natural deodorant?

Using clean fingertips scoop a small amount and apply to clean dry areas where you want to avoid odor. Let it dry for a few minutes before putting on clothing. 

Any residual product doesn't need to be washed off, simply rub it onto an area, such as a skin fold or area you can use a little freshness. Our deodorant is different than commercial deodorants. It's more like skincare, it can even be used on areas of skin irritation as the tallow and minerals facilitate healing!

I've used Khey-Fresh for a week, should I still sweat? I don't think it's working. 

Khey-Fresh is a deodorant NOT an anti-perspirant, so YES you will still sweat but should not have body odor. Sweating may diminish over time, but if you have breakthrough odor try using a little extra during application. 

I noticed some skin irritation when I started using this product, is this normal?

Yes, if you've just switched from a chemical-based deodorant or antiperspirant or have just shaved, you may experience some initial irritation. Your body may need a week or so to adjust.

Our bodies enjoy consistency, and are quite resistant to even positive change and might react to disruption. When we change anything, especially something we've been doing for a long time, whether it be diet, exercise, skin care, shampoo, or deodorant, our body simply needs time to accept the change.

My deodorant is too hard/soft to use, what should I do?

Khey-Fresh is made with organic butters and should be kept between 68°- 85°F for proper dispensing.

During Winter Months

: Using cold product from the Khey-Fresh Jar, you may find that it feels a little hard or lumpy. Simply warm it between your fingers and then apply. 

During Summer Months

: Kheyleve Naturals doesn't use any unnecessary waxes or hardeners so it's not unusual for your product to arrive very soft.  Don't fret, this will in no way compromise the effectiveness of the product.  Simply place the container in your fridge for about an hour and then allow it to come to room temperature. Your product will be as good as new!

Does natural deodorant work the same for everyone?

No, not all body chemistry is the same. More than any other hygiene product, a deodorant's effectiveness can be impacted by gender, age, race, hormone fluctuations, diet, health and even medications.  That's simply the nature of all deodorants, especially 100% natural ones.
Share
View full details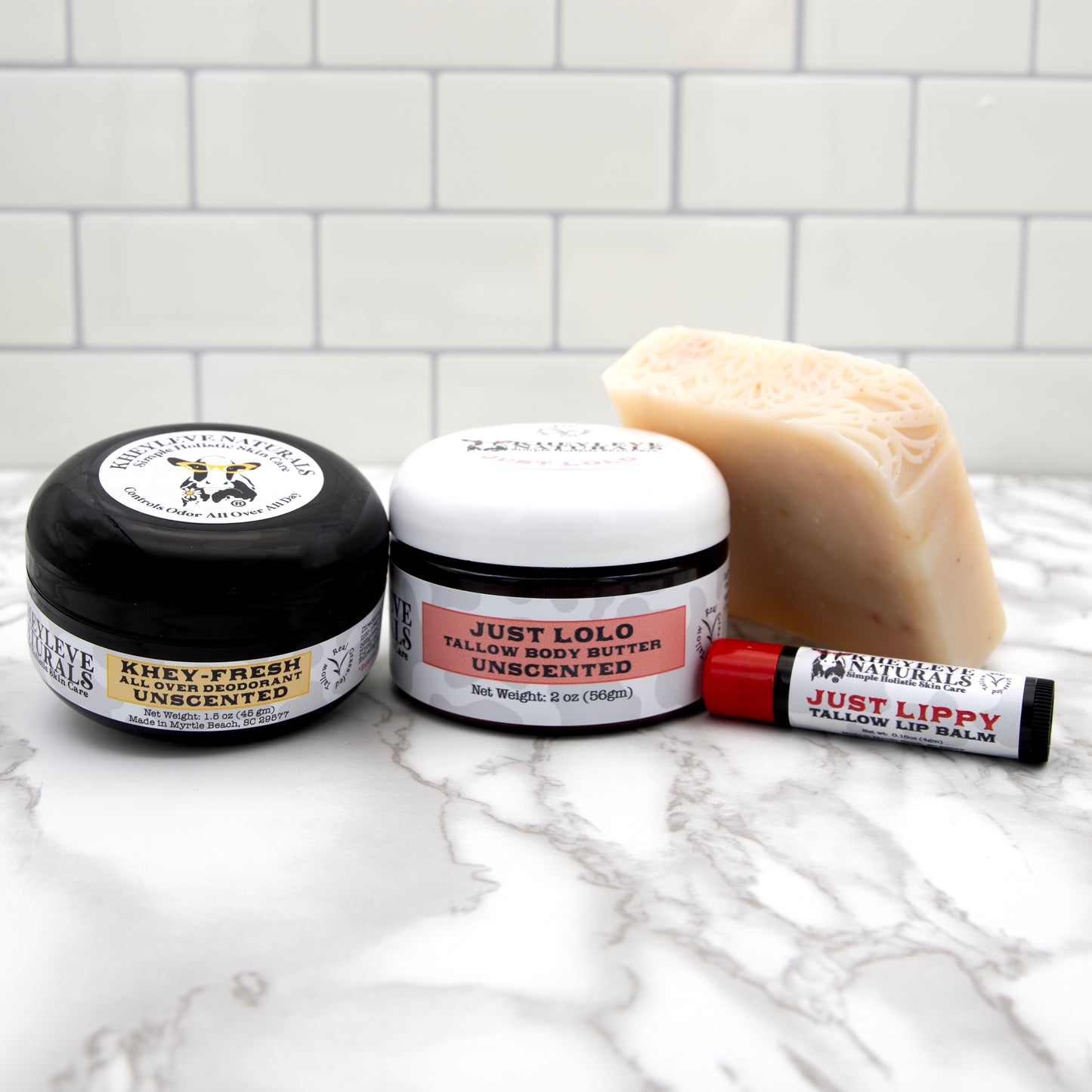 Wonderful products!!
Love, Love, Love these products. LoLo products are awesome for my thin dry skin. Heals the bruises in 7-10 days.
Khey-sentials kit
Love, love, love Kheyleve. Bought two kits and gave one as a gift.
Better than I expected!
I was a bit worried about it the Just Lolo being heavy and greasy but after reading some reviews I decided to give it a try. I've been using it about a week and I absolutely LOVE it, my skin has never felt better! The chapstick is great as well, no sticky feeling. I haven't tried the deodorant or soap yet, but I'm sure it will be just as good. I'll definitely be ordering more Just Lolo
Great gift
Got this bundle as a gift for daughter. She loved it!
The Perfect Bundle
Thanks to The Dilley Show I learned about these amazing products. His story about natural deodorants sold me! I love the soap and Lolo lotion. Living in Florida it's a miracle the deodorant keeps you sweat and odor free, it washes off easily without the weird residue feeling of regular deodorant. We will definitely reorder !