Regular price
Sale price
$45.00 USD
Unit price
per
Sale
Sold out
At Kheyleve Naturals our goal is to take vintage tallow-based skincare to a whole new level. We gather the finest Grass-Fed Tallow high in vitamins and minerals, Organic Butters, and Botanicals to create products that deeply nourish, soothe and help resolve skin issues naturally.
The Day Time Facial Moisturizer from Cherish offers hydration, a soft texture, and a radiant finish to the skin. This moisturizer is suitable for normal to dry skin types, and is perfect for those who prefer a natural look or wear make-up. Also featuring ingredients such as frankincense essential oils, this moisturizer helps to prevent the signs of aging, leaving the skin looking beautiful. 
*What is the difference between the Day Time and Night Time Moisturizers?
The difference is how emollient each moisturizer is; Night Time being the more emollient of the two. It's formulated to bring more moisture to the skin, helping the skin to stay hydrated.*
Net weight: 1.9 oz
Ingredients

Acne Moisturizer-*Tallow from Organic grass-fed cows, *Beeswax, *Jojoba Oil, *Carrot Seed Oil, *Pumpkin Seed Oil, *Rose Hip Oil, Therapeutic grade essential oils: Frankincense, Clary Sage, Lavender, Chamomile, Melaleuca, Cederwood.

Day & Night Moisturizer- *Tallow from Organic grass-fed cows, *Avocado Butter, *Beeswax, *Evening Primrose Oil, *Moringa Oil, *Pumpkin Seed Oil, *Rosehip Oil, *Therapeutic grade essential oils: Frankincense, Rosemary, Ylang Ylang, Geranium, and Carrot Seed Oil.

*Denotes an organic
ingredient
Directions

After cleansing and applied toner has dried, use a small amount and rub into the skin. If applying makeup, let moisturizer absorb into skin first.

As with any new facial product you need to allow 2 weeks for your skin to adjust to a new cleansing regimen.
Care Instructions

Use clean, dry hands; store in cool, dry place. Products that are sealed can be stored in a refrigerator for up to 6 months.
Why Do Products Melt in the Heat
Additional Information

For more information, click here to visit our FAQ page.

Information presented here is not
meant as a substitute for, or alternative to, information from your
health care practitioner. The statements made regarding these products
have not been evaluated by the Food and Drug Administration. These
products are not intended to diagnose, treat, cure or prevent any
disease. The information on our website is intended to provide general
information regarding our products and is not to be construed as medical
advice or instruction.
Share
View full details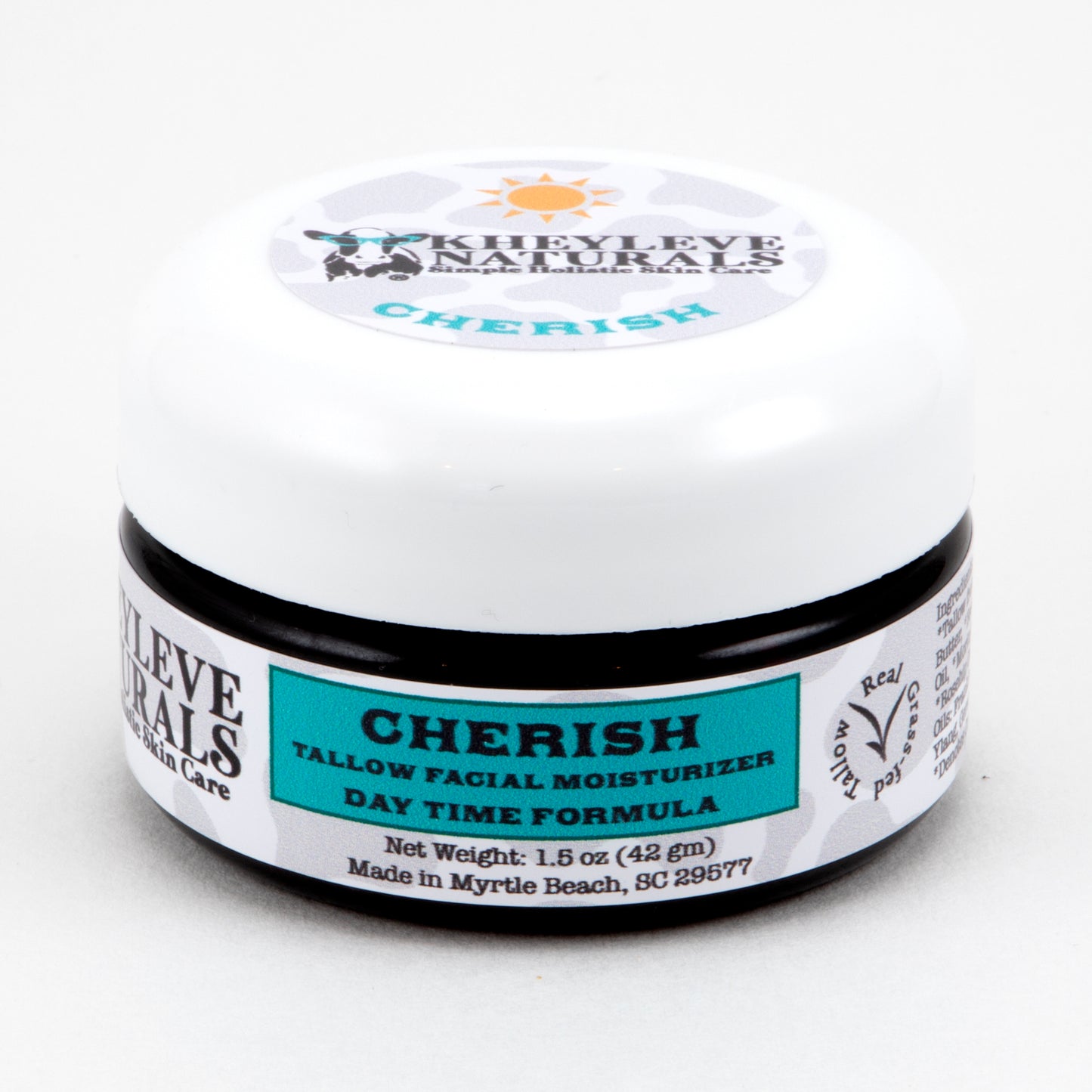 Love this product!
I've been using the Cherish line for at least 2 years maybe 3 by now. It makes my face feel supple yet not greasy. It is a great base for if and when I do wear a foundation. Smooth application. I would be lost without Kheyleve!
Cherish Day Time
The Cherish Moisturizer Day Time Formula is a wonderful product. It is light and easy to apply. A small amount goes a long way. I love Kheyleve Natural products.
Love this moisturizer
We heard from a friend about Kheyleve products. We were interested in trying. Started with the soap bar. LOVE! Gave one as a gift to a friend. Then tried the body butter, LOVE! Next was the day moisturizer. Needless to say I just ordered my second one along with the nighttime! Love it! My husband just started the shampoo bar, he's liking it! You've got to try it! 🥰🙏🏻💯
So good!
Love the Day Time Cherish moisturizer just as much as I love the Night Time Cherish formula. Both are phenomenal. I put it where fine lines tend to show and it really plumps up the skin nicely and gives me a really nice glow!
Love me some Kheyleve!
I know a little goes a long way, but….I sure wish the moisturisers came in the same size as the cleansers do. I can't seem to get the pair to run out at the same time, always have extra cleanser.
Great products for older skin that is sensitive.
Thank you for helping me give my face some extra lovin!
I recommend all of the product line.
Get that nasty department store junk off your face, you deserve better, and Kheyleve has what you need!