Regular price
Sale price
$15.00 USD
Unit price
per
Sale
Sold out
Boost "Hand-It-Izer" Hand Balm Moisturize, Protect and Repair your hands with our  Boost Balm. Gentle on skin, tough on dryness! Our awesome botanical blend along with Grass-Fed Tallow and Beeswax for added protection even after a few hand washings!
A VERY small amount goes a very long way!! Great for soothing bug bites, minor cuts and abrasions!

A pleasant, warm smell of cinnamon, clove and orange. A blend of pure essential oils specifically formulated, and historically used to keep the Immune system healthy. This is the original formula for our best seller Boost Foot Lotion Bar, just in a balm.

Perfect to use after washing to moisturize and protect with a natural barrier from 7 powerful essential oils. It is a favorite for nurses, school teachers, and others suffering from overwashing and dried out hands.

No need to worry about harsh chemicals here. Boost moisturizes, hydrates, cleanses and protects naturally to keep your hands hydrated and protected long after washing!

A must have for every nursing station, teacher, work desk, and kid's backpack.
Wt: 0.9 oz

Ingredients

* Tallow from Grass-Fed cows, *Coconut Oil, *Beeswax, *Allspice,
Orange, Lemon, Eucalyptus, Cinnamon Cassia, Clove, Cinnamon Bark, and
Rosemary Essential Oils  *Denotes an organic ingredient
Directions

Apply a very small amount to hands after washing, working between
fingers , into cuticles. May also be used on minor cuts, abrasions and
bug bites. 


** Keep out of reach of children, not recommended for use on children younger than 2 years of age. 
Care Instructions

Use clean, dry hands; store in cool, dry place. Products that are sealed can be stored in a refrigerator for up to 6 months.
Why Do Products Melt in the Heat
Additional Information

For more information, click here to visit our FAQ page.

Information presented here is not
meant as a substitute for, or alternative to, information from your
health care practitioner. The statements made regarding these products
have not been evaluated by the Food and Drug Administration. These
products are not intended to diagnose, treat, cure or prevent any
disease. The information on our website is intended to provide general
information regarding our products and is not to be construed as medical
advice or instruction.
Share
View full details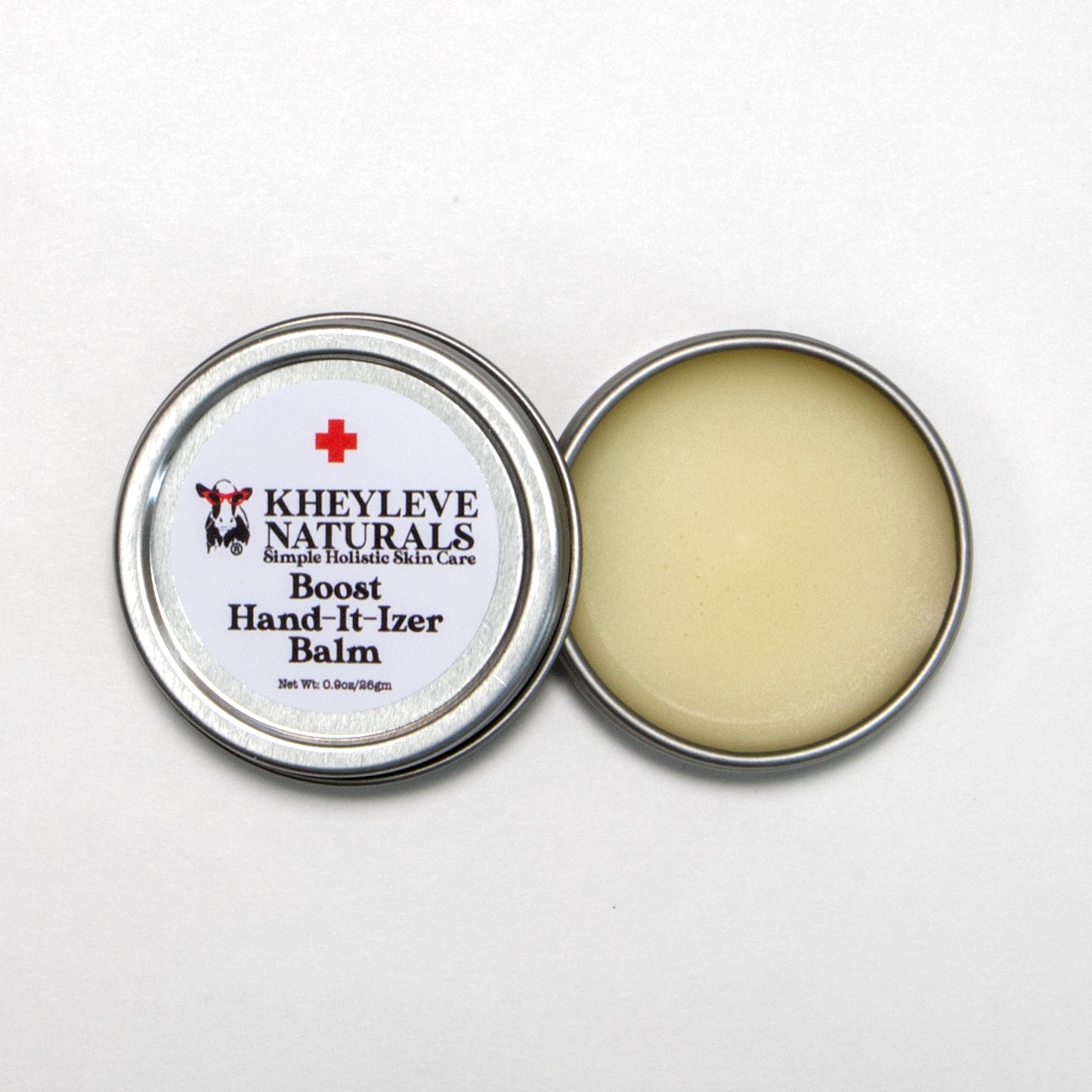 Life Saver
I lift weights daily and my hands get pretty bad rough callus's. The Hand-It-Izer softens the callus's but doesn't make them disappear plus the added benefit of boosting my immune system! Excellent product!
Great! As the seasons change and the humidity drops our hands get super dry. This hand balm does great! Plus we live to support MAGA-preneurs!
Dry skin
It's working but I have away to go still.
Boost "Hand-It-Izer" Hand Balm 1 oz tin