Regular price
$47.00 USD
Sale price
$37.00 USD
Unit price
per
Sale
Sold out
This bundle perfectly caters to anyone who needs a safe & gentle skin solution - created especially for babies, but perfect for anyone at any age! The Just Lolo Unscented is a diaper bag must-have & perfect baby shower present. Moms can use it as a face and belly cream, or to soothe nursing soreness & chaffing. Plus, the Just Cheeky and Just Lippy can help treat diaper rash, dry lips, & cradle cap. It's a one-stop-shop for all skin issues! And for those with dry, sensitive, or irritated skin, it's the all natural, eczema and psoriasis-friendly choice.
Featuring our Just LoLo Tallow Body Butter (choose 2.0 oz or 4.0 oz), Just Cheeky and Just Lippy Lip Balm.
Every product in this bundle is made without preservatives; natural and handcrafted in small batches. Each product contains nutrient dense blends of ethically sourced animal fats and organic plant oils, along with beeswax that synergistically feed your skin. 
 *Please look at individual product ingredients, sizes, and application instructions.

Ingredients

*Please look at individual product ingredients, sizes, and application instructions.*
Care Instructions

Use clean, dry hands; store in cool, dry place. Products that are sealed can be stored in a refrigerator for up to 6 months.
Why Do Products Melt in the Heat
Additional Information

For more information, click here to visit our FAQ page.

Information presented here is not
meant as a substitute for, or alternative to, information from your
health care practitioner. The statements made regarding these products
have not been evaluated by the Food and Drug Administration. These
products are not intended to diagnose, treat, cure or prevent any
disease. The information on our website is intended to provide general
information regarding our products and is not to be construed as medical
advice or instruction.
Share
View full details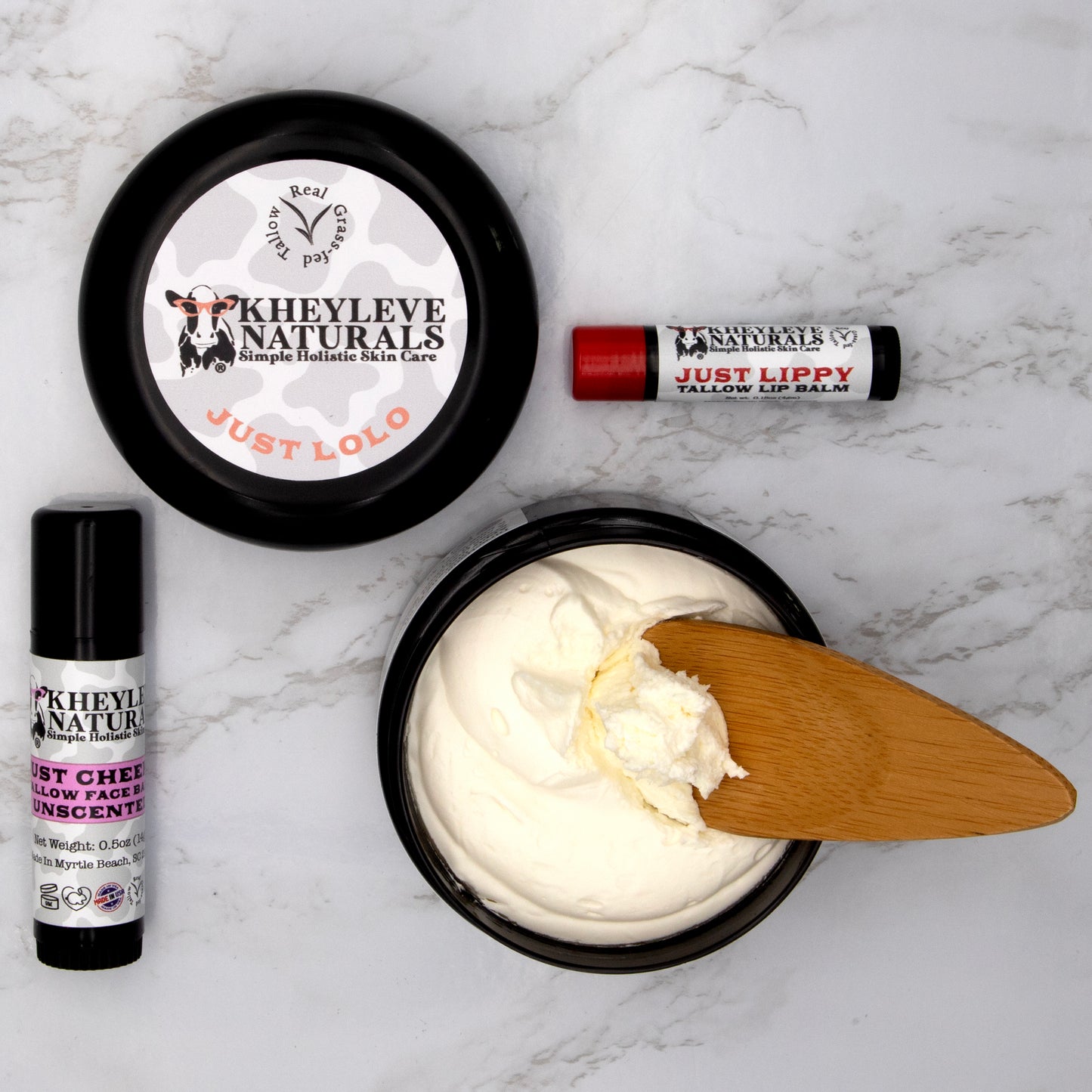 I always buy this for baby showers or for anyone going through cancer treatments! Its a life saver for radiation burns!
GREAT BUNDLE FOR GIFTS!
These products are so gentle yet effective, they worked so well for my radiation burns! I send these bundles as baby shower gifts and recovery gifts for those going through chemo and/or radiation! THANK YOU KHEYLEVE! ❤️🙌🙏
Excellent
Been using on calf area for RADIATION TREATMENT for 25 sessions now it has done wonderfully . I just ordered container for 2nd time . Thank you for helping me over the phone 🇺🇸🙏🏻✝️🙋🏻‍♀️
Honest Review of the Product
In assessing & using the product - results: we will reorder again in the future - Overall the order was well received - outstanding packaging, shipping and product - The interesting takeaway from using the product is we saw better results on using the lolo cream on our french bulldog's cracked paws over anything we have been using - including prescription meds from the vet - I know this product is designed for humans, but the results were absolutely amazing on our French Bulldog's paws - One another note, the actual deodorant material is a great product and lived up to the claims - but the packaging for application is awful, small, cheap, and on par with something out of the dollar tree - Its unfortunate as the actual product inside is great. Unless the packaging changes - I would not reorder
Very effective! Feels Great!
I am so glad to have found Keyleve products. They are truly superior and have not raised their prices to the extent other companies have during this economy. It feels good to be supporting an ethical company that seems to really care about their customers as evidenced by the quality of their products and reasonable prices..